I think I finally found the remedy for my fear of high-heels. 3 inch heels! They are the perfect height to walk comfortably while also helping me look a teeny bit taller. Anything approaching 4 inches and I feel like I'm too high in the sky. For this summer, I was looking for some comfortable sandals. A couple of weeks back, I wandered into a Lands' End to escape from a downpour and of course started browsing the aisles. I happened upon these 2- 3/4 inch wedges which were around $60. Once the rain stopped, I walked out empty-handed because 1. I'd never bought anything in LE and 2. I wasn't spending $60 without even thinking about it or looking for a coupon and 3. They were heels!!!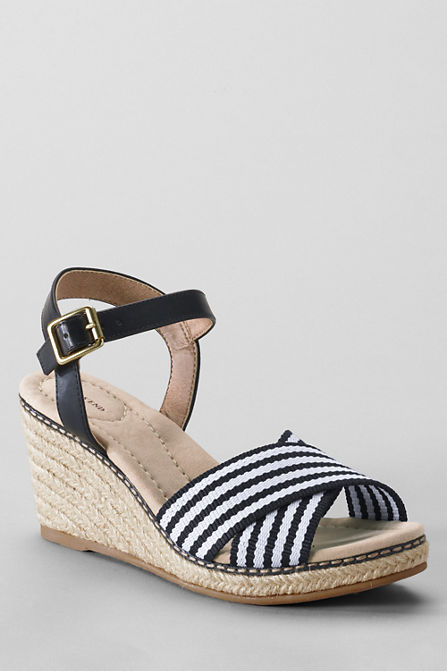 Anyway, I kept thinking about the shoes and kept checking the LE site and what do you know, they went on sale for $27. I was SO excited and ran to the store the next day to get them. I got them in an 8W. Perfect sizing. Here they are in all their glory -
They are SOOOO comfortable. You know when you wear flats, your arch isn't very supported and you get this pain in the soles of your feet. No such problem here. My feet are well supported and I can run errands for an hour or two without any pain.
Even better, these shoes are on sale right now for $25. Seriously,
go here and buy them right now
. You will not regret it. They have them in a couple of other colors too.
I also love
this peep-toe from LE.
It has a similar heel and construction. Very comfortable and so cute!
I should probably buy these too. What shoes have you bought/been eyeing for the summer? Wedges or flats? Let me know in the comments!!