Proving that there are finite limits on how many ways you can design stripes, Kate Spade Saturday released this button down as a part of their new collection.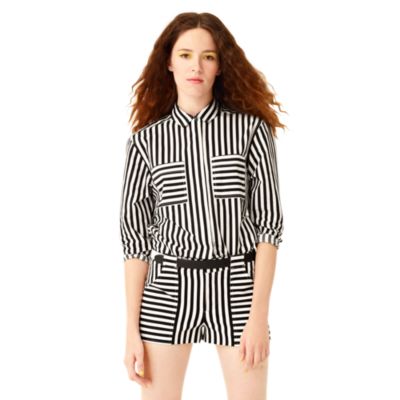 You can buy this shirt
here
for $70. Its 100% cotton, so thats a good thing. And the design looks like it will not show wrinkles easily. Luckily, I remembered that Zara had released something similar back in January.
This one is 100%Polyester but Zara polyester is very good quality, so I wouldn't hesitate to buy it. You can buy this shirt for $59.90
here
.
If the price is still steep, you could consider this option from Zara TRF.
It doesn't have full sleeves but since I am looking for shirt to wear under a cardigan or blazer, this works well for me. You can buy this shirt
here
for $39.90
If full sleeves are a must for you, at this price, you could consider this shirt. It features only one pocket on the front but it does have full length sleeves. Buy it
here
for $39.90
Black and white stripes are big for spring/summer and I'm glad to have a bold vertical design to wear them. Are you liking the black and white trend this season? Have you bought any pieces to work the trend?