I have always liked really really dark cherry wood. That changed when I moved here to Seattle! The place is so gloomy that dark wood just seems to weigh everything down. So my primary goal in decoration is that everything feels light, airy and sunny. EVEN IF THERE IS NO SUN!! Now our dining room overlooks a deck which opens into the forest. The tall trees mean, very less sunlight but lot of greenery. So, I had a vision of something like this -
So a light birch wood table and ghost chairs were my original intention. Now, did I mention that our house is small? So I got this idea that I should have two upholstered chairs and two stackable ghost chairs, so the upholstered ones can be used in the living room for extra seating.
Also since we would have a Puja area in the dining room, on the sideboard probably, the dining table couldn't be too big. With all these conditions, the final decision was to get -
A foldable dining table, two upholstered chairs and two ghost chairs.
So imagine my excitement when I found
these gorgeous chairs on sale
for $79 a piece in World Market! I totally scooped two of those up..
This is the grey tufted dining chair. The color is more natural linen/sand than an outright grey. Since its just the two of us for now, we would make do with these chairs and buy more as more people visit.
The only downside is that, the legs are a dark espresso color , so my ideas of white/birch combo has gone out of the window!
For the table, I was looking for a light colored wood gateleg but
this is the best option
I have so far -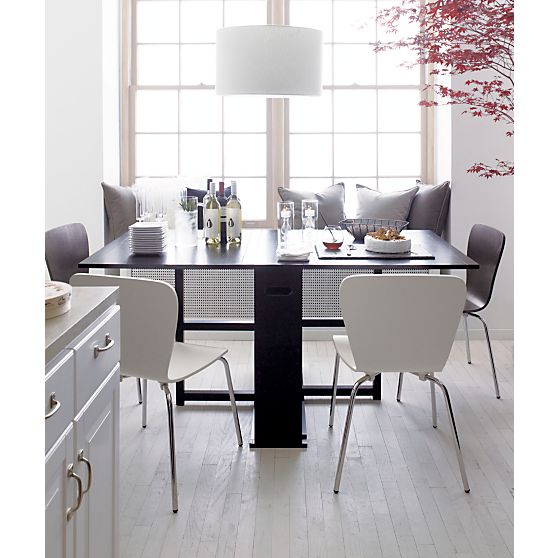 This table is foldable and so we could have lots of space for pujas when necessary. And it will also not block a lot of light. So I'm hoping the dark wood works. They do have a white version but its a heavy glossy white, so I'm not sure how that would work.
I also found
this set
but could I ignore my chair's dark legs and put it with this table? I'm not sure!
For now, I'm still trying to decide between ghost chairs and a bench.. and of course looking for a space saver table. Lets see how that goes.
These are my dining room updates so far.. I'm really excited and again thank you so much for letting me share this experience with you guys! I'm having a lot of fun. I would love to hear your feedback and I would also love to know if you have any suggestions for a space saver dining table.
I will be back soon with more updates! Lets talk in the comments until then!