Hello there! There have not been too many fashion posts in the last month or so. The reason is that I have been doing zero clothes shopping and plenty of home decoration shopping/ research. I finally decided to post my inspirations and shopping purchases here so that I can include you guys in the process.
First, I want to start with the bathroom. Its the smallest space with the least budget. I'm hoping decorating it would be simple.
I wanted to go for a beige and gold, posh but warm theme for the bathroom. But finding low cost gold accents for a bathroom has proven to be quite challenging! So I moved on to a dark wood or brass look with a beige scheme.
Here are some of the accessories that I have picked -
I don't need the mirror or tumbler. But I would love to get this
soap dispenser and toothbrush holder
.
There is also a
trash can
with the same finish.
I also love this
rich wood set
but the price is a lot higher than the brass.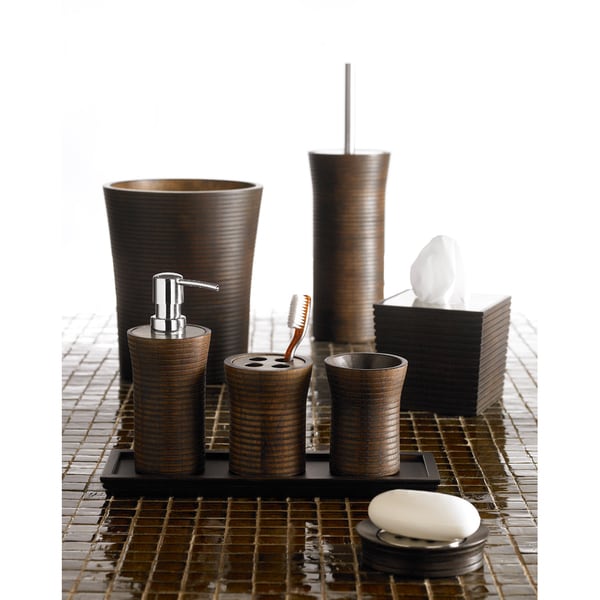 To offset all the brown and gold and make it a little more cozy, I want to opt for ivory or beige bath rug. I love shaggy bath rugs. So whether I go for the wood or brass,
this rug
would be perfect -
I would love to get a
soft toilet seat cover and contour rug
- something like this but in a deeper cream or wheat or ivory shade.
These towels are the perfect shade.
Now to some decor accents -
These come in a set of two, so I would use one bowl as a holder for these
soap petals
-
They are scented, so that would be a fragrance add on.
Also a clear vase with gold and
ivory flowers
like this -
And some
darker branches
-
Overall I would love to get a look and feel like this -
Since our wood is lighter, I will have to look at what works for our house. Also the whole room is elegant but its missing the crucial fun element. I wouldn't want my bathroom, of all the rooms, to take itself so seriously. So I'm looking for a some fun, playful decor pieces that will not take away from the look and feel.
I would love to hear your opinion on this design idea. Do you have any suggestions or product ideas that I should go for? Any shops that I need to check out? Any ideas on the playful fun accent ideas? I would be so happy if you guys helped me out in this process!!
Also, I am pinning a lot of decor ideas in my Pinterest boards. So if you are looking to decorate or if you would like to see pieces and rooms that inspire me,
go here to see my Master bathroom pinspiration board
.