Have I ever told you about my love/hate relationship with J.Crew? I love their store. I love almost every single piece there. But I hate that I cannot afford most of them. And free shipping over orders of $175.. wth?? Thats why I stick to Zara (free shipping) always! But here is a worthy alternative in design.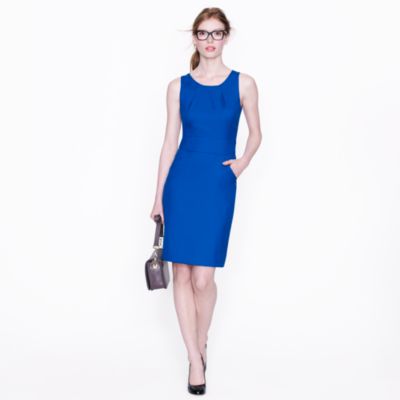 This is the Emmaleigh dress made of wool, so more suitable for fall winter. There is a very similar dress made of cotton/silk called Allie on J.Crew website. You can buy the Emmaleigh dress
here
for $188 and the Allie dress for $178
here
. Now here is the dress I found in Piperlime.
This dress by Pim+Larkin was retailing for $69.99 now retails for $39.99. Its so similar in design and look to J.Crew with pockets and all. The differece is that this is cotton + linen+ spandex. And honestly I prefer a little spandex in my clothes just to smooth my silhouette a little. This dress is also available in a variety of summer colors including a tomato red, light pink, summer yellow and this royal blue. You can buy this dress
here
.
Update: You can use the code "ME" to buy this dress at 20% off. Code expires 7/24.